I just thought I would do a blog post about some of the items we use on a regular basis that help us out. All of these things are relatively inexpensive baby or toddler items that are designed for typical children but which lend themselves perfectly to assisting a child with Cerebral Palsy like Joshua.
Plates and Cutlery
We are currently using the
OXO Tot Plate
and the
OXO Tot Fork and Spoon
.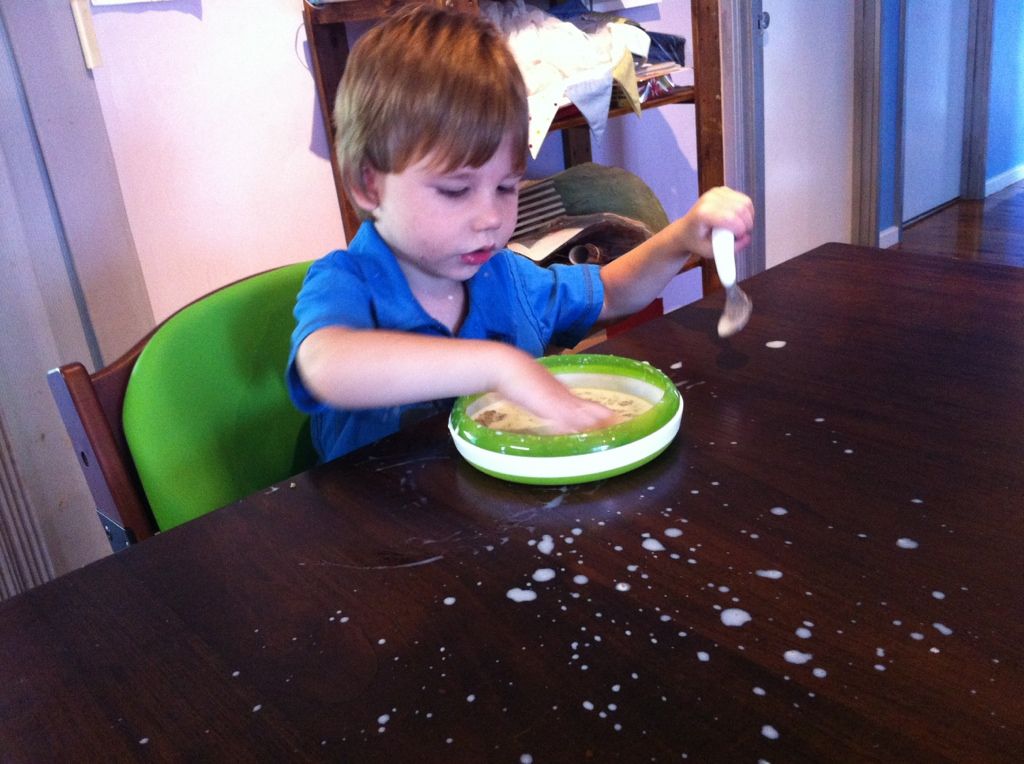 Joshua eating using the OXO Tot Plate and Spoon... Yes.. it is still messy!
Food Pouches
Yoghurt is a popular snack with most toddlers and Joshua is no exception. These days, many commercially prepared baby food, as well as yoghurts, custards, pureed fruits and even jelly is available in squeezy pouches where the food can be sucked out of a straw like opening. Anything that Joshua can master independently, or almost independently, really makes my life easier, especially as I also have a baby to care for. Eating yoghurt with a spoon from a bowl or tub is not something Joshua can manage independently and attempting to do so is tedious and messy. So I was quite thrilled when Joshua learned to eat yoghurt from a squeezy pouch. He often still needs help to squeeze up the second half of the tube, but overall it is a quick and easy snack option that he can manage with minimal help and minimal mess.
Joshua eating a "Squeezy Yoghurt"
These pre-packaged 'Squeezy Yoghurts' can get pretty expensive when you are buying a lot of them (and I was!) until I learned about
Squeeze'ems
. Reusable Squeezy Food Pouches, that are BPA Free and can be cleaned in the dishwasher. They are cheap to buy, and I can simply refill them using yoghurt from a large tub which is much more cost effective than continually purchasing the pre-packaged yoghurts. These are a great product for kids that are on a totally blended diet or, like Joshua, have difficulty eating with utensils but can suck food from a pouch.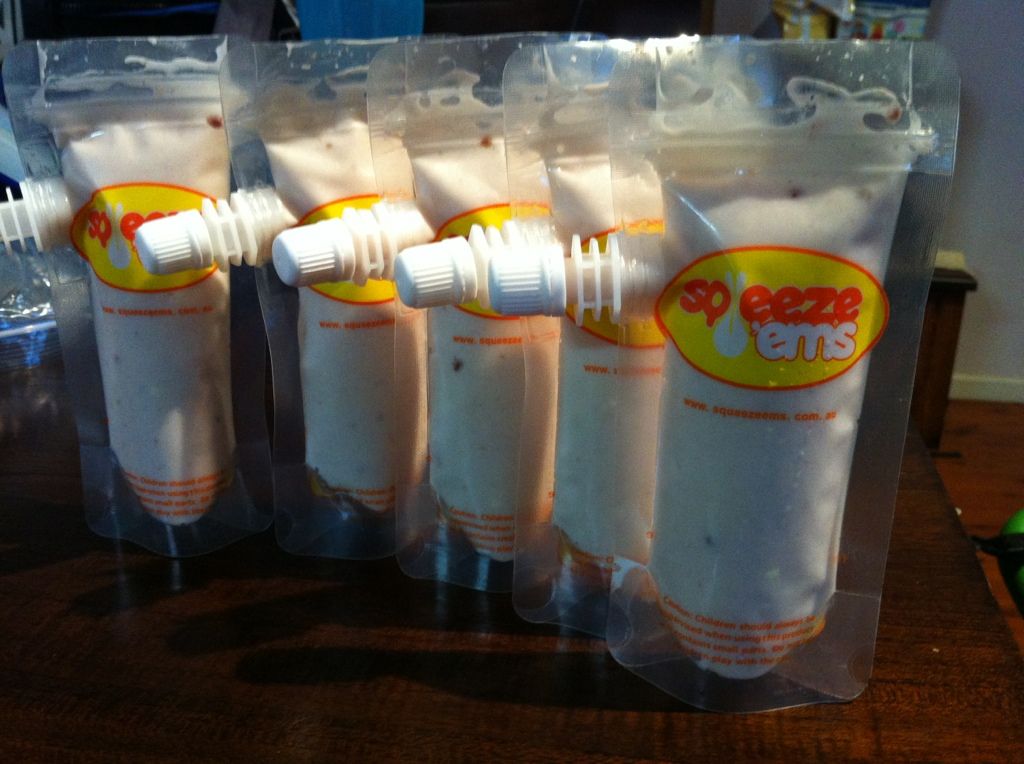 Some of our re-usable food pouches filled with Yoghurt ready for Joshua to enjoy :)
Drinks
Many kids love drinking pre-packaged juice or milk drinks. The kind that come in a box with a straw. Joshua is not a real fan of juice, but he does LOVE milk, especially chocolate milk and it makes a fun treat. The problem with these boxed drinks, is that they can be really messy until your toddler learns the right amount of pressure to use to hold the box without squeezing the liquid out everywhere. These is an even harder skill to master for a child with Cerebral Palsy. When Joshua wanted to drink such a drink, I would have to hold it for him while he sucked the straw. If I was to let him hold it, then it would result in an instant mess. That is, until we started using the
Baby U Juice Box Buddies
. A container that holds the drink and prevents the contents from being squeezed out, with the added bonus of having handles, which make it easier to hold. Now Joshua can sit and enjoy his special milk without his Mum annoying him all the time :)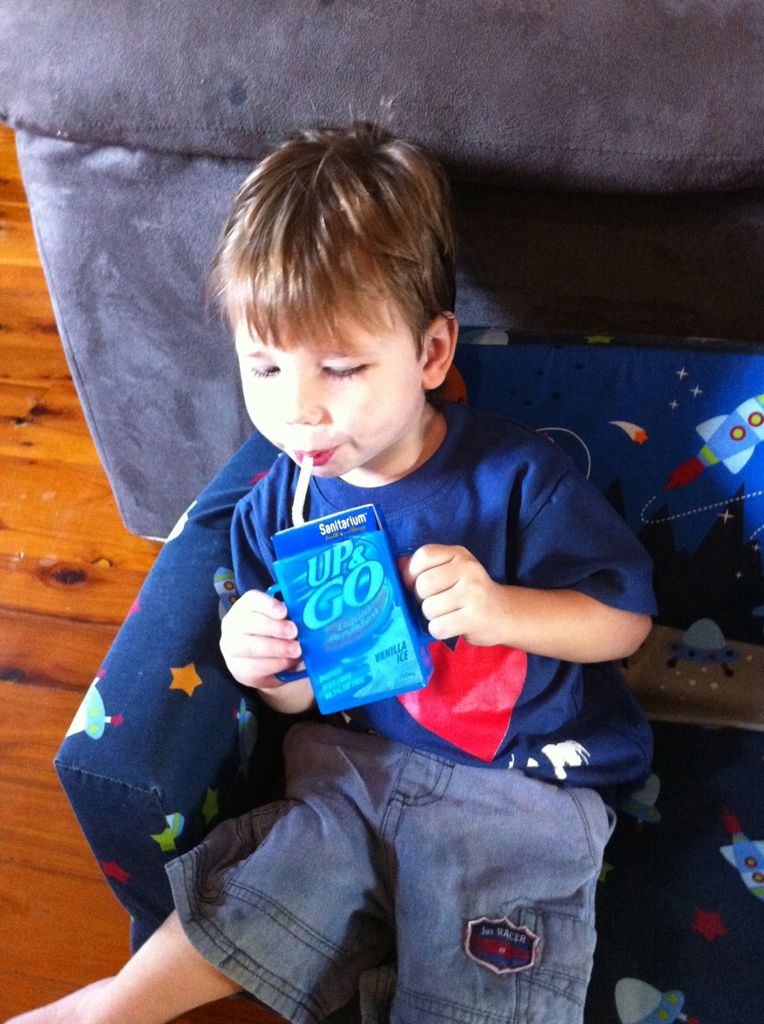 Joshua drinking an 'Up & Go' using the Juice Box Buddy
Well that is all for now folks, hopefully by sharing a few of the things that work for us, it might help anyone else that is looking for things to help their child :)