Today we received a new chair for Joshua. It is called a Height Right Chair and we were able to purchase the chair using some of our money from our Better Start for Children with Disability Funding. Well I purchased the chair after having to get it approved from a Therapist that is on the Better Start Panel, and she will arrange for me to be reimbursed. I am still waiting on the paper work for that.
The reason for wanting this new chair is because it is fairly important for children with Cerebral Palsy to be well supported when they are seated. Everything involves a lot more effort for a child with CP. When you are just sitting in a chair you may take for granted the fact that you are having to keep your body balanced in certain ways to remain upright, it comes very easily to the average person. But for a person with CP, it often requires an active effort on their part just to remain seated. When you combine that with trying to do other things while sitting, such as using your hands to eat or play, it makes things extra hard. By having a good supportive seat, that takes the effort out of sitting, it frees the person up to concentrate on being able to use their hands more effectively. One of the main things that make a seat a good fit for Joshua, is that it has a foot plate for him to rest his feet. Imagine for a moment, or even try it out, sitting on a chair with your feet in the air. When you lift your feet from the floor, you suddenly need to engage a lot more of your core muscles to keep your upper body upright. When you place your feet flat on the floor, you are able to relax those core muscles again, as your feet help to keep you stable. This is what we wanted to achieve for Joshua, so we could maximise his ability to do things such as feed himself with utensils, which is still very much an emerging skill for him.
Up until now, Joshua has been using a Fisher Price Healthy Care Booster Seat, strapped to a regular chair and pushed up to the table. These seats work very well for most children, and we could certainly make do with it, but it was not ideal for Joshua as it lacked somewhere for him to rest his feet.
Joshua in the Fisher Price Healthy Care Booster - You can see his feet just dangle
So the chair I decided that I wanted to get is called a Height Right Chair. I liked the look of it because not only does it meet our needs to provide adequate seating for Joshua, but it also grows with him, as it can go from 6 months of age (Can be purchased with a high chair tray and infant insert) and last until adult, up to 110kg. So basically, we should not need another chair for him. There were two options for the Height Right Chair. One is a Special Tomato Height Right Chair, which is basically marketed as a special needs chair. And it also comes with a Special needs price tag. The other option was the Keekaroo Height Right Chair. Which is basically the exact same chair but it is marketed to the general public and is therefore cheaper. So I chose to purchase the Keekaroo Height Right Chair. The price of the chair is quite good really, the only downside for me is that this chair is not sold in Australia so I had to pay $140 to have it shipped here from the United States. If it wasn't for the shipping price, it would be a bargain! LOL. (oh and the shipping price is covered under the Better Start funding too, in case that was confusing). The other good thing about the Keekaroo one is that it comes in two choices of wood stain and has a greater number of colour choices for the cushions than what is available with the Special Tomato Seat, which only has one wood colour and less cushion colours. It can also be purchased with or without the comfort cushions, but I definitely chose to get the cushions. The cushions are made of a material that is similar to a Bumbo for those that are familiar, but slightly squishier.
Of course, the chair arrives flat packed and has to be put together, which is always fun (though it wasn't too bad) and then after configuring it in the right position for Joshua, it was ready to go! In an ideal world, I would actually have him seated even higher, but you can see that my table has a silly bit of wood that hangs down below the table top, so I can't make him any higher than this or there would be no room for his legs... ideally his elbows are supposed to be at table height, but what can I do... (I mean other than buy a new table or cut a hole in this one... LOL)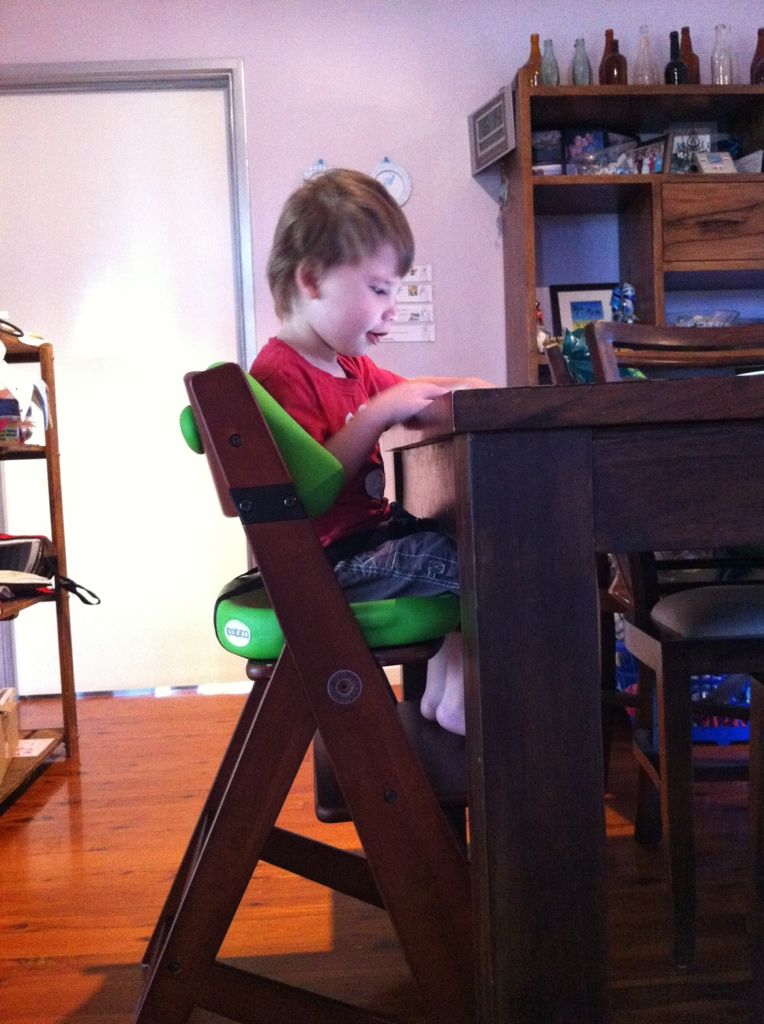 Joshua seated in his new Keekaroo Height Right Chair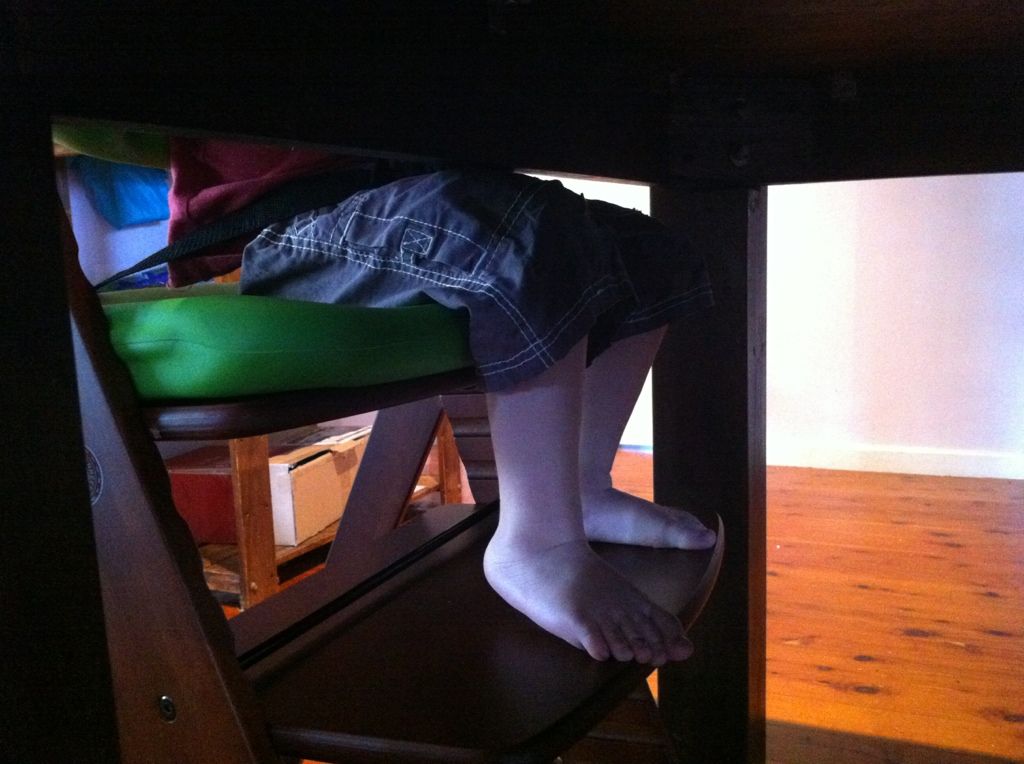 Feet on the foot rest to improve stability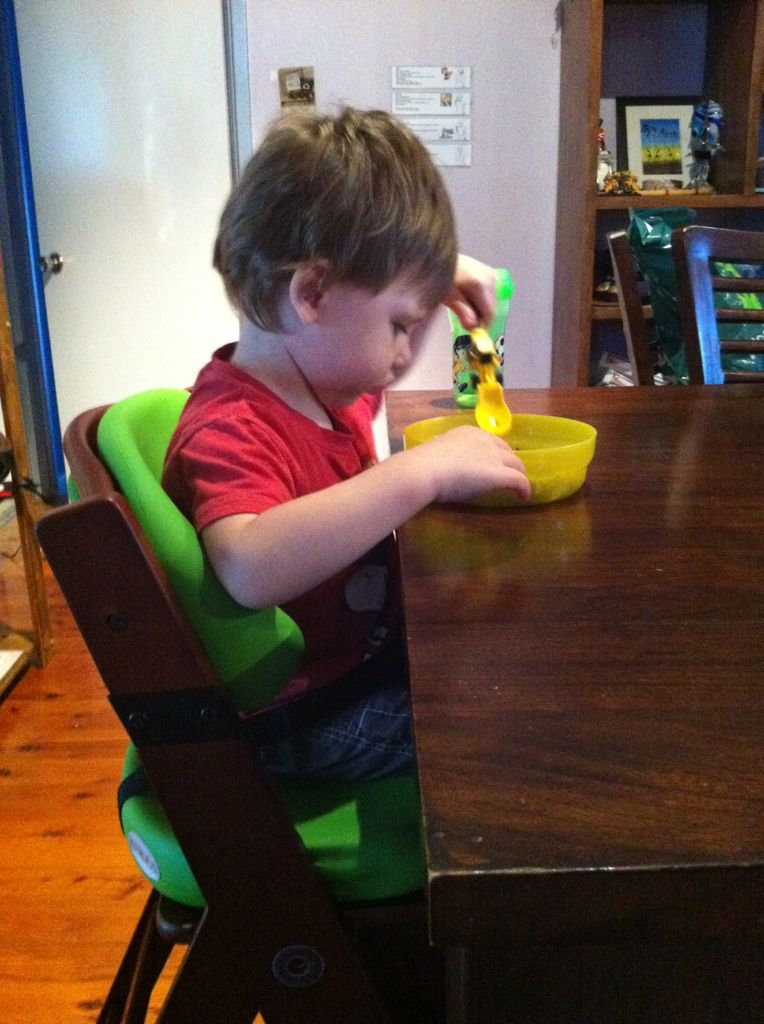 Working on Eating in his new chair. It also has a waist belt to keep him secure.


Another plus, is that because I was able to choose a dark wood stain, it goes quite well with the rest of our furniture and doesn't look like an obnoxious piece of equipment :)
Just part of the furniture!
Anyway, I think the chair is great, I really like it, and I am planning to buy another one for Amelie (with pink cushions of course!) and the high chair tray and infant cushion, for when she starts solids in a few months. Of course, we have to pay for hers ourself, but it will be good to do away with ugly plastic strap on booster seats, and they will both have their special chairs for the table and she won't be left out :)