So, for some time now, I have been meaning to getting around to printing out some photos I had taken of different parts of Joshua's day, so that we could use them to help facilitate communication. I had taken some photos, and even imported them into an ipad app that involves choosing the correct picture when asked, but I hadn't yet gotten around to printing anything.
Then, a fellow HIE/CP Mother kindly told me about an app she had downloaded to make picture cards. Interestingly enough, the App is called Picture Card Maker. Hehehe! There is a free version, and also the "Pro" version, which cost me $6.95. You can make your cards just fine on the free version, but you need the full version if you want to be able to customise the size of your cards. This is essentially what is known as PECS (Picture Exchange Communication System) and PECS cards are usually smaller than the ones I have chosen to make. I made mine 7cm by 7cm for easier handling for Joshua. The idea is that the cards can be selected and then placed on a "sentence" strip to convey what the person wants to say. A 'real' PECS contains cards that are "sentence starters" things like "I want" "I don't want" and then other picture cards can be chosen to complete the sentence. At this stage, that is still a bit too advanced for Joshua, so right now I have done pictures only.
I found a tutorial online for how to make a nice communication folder, but this wasn't going to work for me because I chose to make my cards larger than the standard PECS cards, but if you are planning to make small cards, check this out as it might be really useful -
Make a PECS Book
.
So, instead I set about making a more basic version for us to start with. By the way, I am still very optimistic about Joshua's speech, he makes improvements all the time, his receptive language has made noticeable leaps lately, and he is always adding to his expressive language too. Right now, he has about 20-30 words that he can say, some consistently, some not, and I am certain that he will continue to add to that, but for right now, his speech is still significantly less than that of a typical child his age and hopefully providing an alternative form of communication might help to alleviate some of his frustration.
So the first step in creating a Communication folder, is of course, going shopping for the needed supplies. Joshua took great delight in helping with that!
Pushing the Child Size Trolley at Office Works
So the things that we needed were: An A4 folder, Some paper, laminating sheets, a laminator, a hole punch, a labelling machine, and some self adhesive velcro strips. I had most of this already, we just needed to buy a folder, the velcro, and some black paper. I chose black to be the colour for the background of the pages for the contrast, but I was thinking later that maybe it would be good to use different colours for different sections so you can find them easily. So if you are making one, you might benefit from my after thought :) And of course, you can do things slightly differently with what you have already. Oh and by the way... the most expensive part of this was the velcro... So if you are planning to make one and have the luxury of time and patience, then I would recommend trying to source cheaper velcro!!! If I make another folder, then I will look for cheaper velcro next time :)
I created all of the picture cards using the ipad app, and printed them out onto photo paper. Cut them out, laminated them all, and then cut them out again. I was a little disappointed in the print quality, I think it was because I was using cheap ink in my printer and not the genuine Canon cartridges, so you get that I suppose... and they will do the job still.
I gave Joshua the choice between a green or blue folder and he chose a Green one. Naturally, the first step to any good folder is stickers....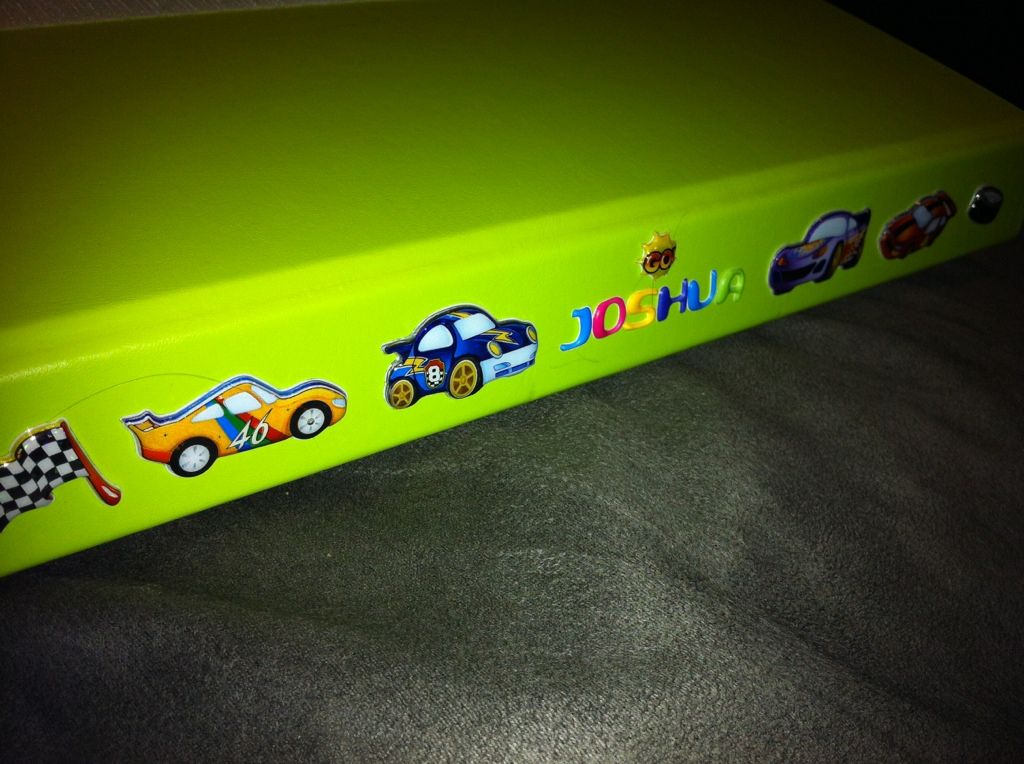 Joshua's name and Car stickers
Then I had to laminate my black paper, and hole punch them so they could go into the folder like so:
Then, each page needed two strips of velcro on it. I also labelled each page using my label machine with a category.
This is the rough "Hook" side of the velcro, and the category label at the top of the page
The Categories I did are:
Family
Food and Drink
Personal Care
Toys and Activities
TV Shows
Places
Objects
On the front of the folder, I also placed a strip of hook velcro, to be our 'sentence strip' if required.
The last step of course, is to cut small pieces of the soft "loop" velcro and stick it to the back of the picture cards. And then stick them all into the folder. Here are a few examples of my finished pages.
Toys and Activities
Family
Now, we can take the cards on and off their pages and stick them onto the front of the folder if we want to. So we might take out the Picture of Joshua, a picture of the car, and a picture of his day care to say that Joshua is going in the car to day care. And that is basically the gist of it, so now all I have to do is start working with Joshua and the folder. He loves looking at all the pictures, so the next step is to start incorporating them as a mode of communication, encouraging him to use them to tell us what he wants.
In other news, Joshua is doing really well, progressing nicely in all areas, but the most exciting thing of the past few weeks is that Joshua has started to take independent steps. He started going for it with such gusto that I didn't think it would be long before he was really walking all around the place. But I think that was wrong... it has been two weeks now and most of the time, he isn't taking more than 2 or 3 steps at a time before dropping to the ground even though I have seen him do more. So, that is that, slow and steady he will get there, but we know for sure (not that I ever had any doubt) that Joshua is going to be a walking boy.
Here is a video of Joshua, taking some of his first steps at 26.75 months old :)